Work Style Transformation
Under the on-going management plan "TV Asahi 360°," the Group states that the source of all of its values is "content." Employees and involved staff members are the people who support the creation of these values and we believe that building a labor environment for maintaining employees' and staffs' physical and mental health is a top priority for the Group to keep growing and developing. To this end, the Group put together the "TV Asahi 360° Workstyle Transformation" and is implementing various measures.
01Initiatives for reducing working hours
TV Asahi hopes to put first the health of its employees and those working at the company. It recognizes reduction of long-working hours especially at program production sites is an urgent issue. For this reason, it has been implementing various unconventional measures aimed at realizing a sustainable workstyle.
Strict grasping of working hours
To grasp employees' work situation, TV Asahi aggregates the total working hours of each department every month and shares it internally. Also, the supervisors in charge of work management at workplaces always have a grasp of the work situation of the staff, as part of the mechanism the company is building in an appropriate manner to control long working hours.
Reflection to performance review
The performance review has items regarding Workstyle Transformation. In particular, the goals include thorough health management and achievement of balance between work and personal life.
Promotion of measures to encourage taking leaves
TV Asahi has been encouraging employees to take leave for five consecutive business days and 98% of all employees did so in FY18/3. In addition, it established Lucky! Fridays to encourage them to take paid leave in FY18/3, in an effort to reduce total working hours by introducing new measures.
Hiring of immediate asset
As part of measures to enhance staff organization, TV Asahi is advancing implementation of mid-career hiring of human resources who can be an immediate asset primarily for content production leading to the promotion of the management plan "TV Asahi 360°."
Introduction of robots in office work
TV Asahi will introduce robotic process automation (RPA) to handle part of office work to improve efficiency of the operation and reduction of total working hours.
---
RESULT

By organically promoting these initiatives, TV Asahi succeeded in reducing total working hours by about 6% in FY18/3 compared with a year earlier.
TV Asahi will continue to promote various measures to protect the physical and mental health of its employees and staff.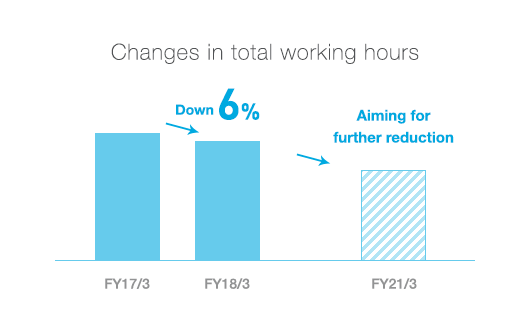 02Initiatives to enhance the physical and mental health
TV Asahi has also been strengthening its initiatives to maintain the physical and mental health of its employees. It has taken stricter measures to ensure the health of employees who worked long hours and also meticulously responding to those who have mental and physical complaints. The Human Resources Division, superiors of workplace and industrial doctors collaborate in such cases, and the company focuses especially on providing care to young employees in the first three years with the company.

Stricter health measures for employees working for long hours
(health condition questionnaires, interview with industrial doctor, etc.)

Ensuring that they take part in regular health check-up and health screening
03Initiatives toward diversification of workstyle
Measures to support child rearing and nursing care
For employees who are engaged in child rearing and giving nursing care to family members, TV Asahi in addition to childcare and nursing-care leaves has introduced reduced working hour system, etc. and many employees have utilized them. It also encourages male employees to take childcare leave and some employees did so in FY18/3. Moreover, it sets the childcare leave two months longer than required by the law.
Toward introduction of teleworking system
TV Asahi has introduced teleworking system to realize diverse ways of working and promote achievement of favorable work-life balance. It plans to make the system more enhanced and easy-to-use in the future.